Introducing SOL - The Portable Diode Laser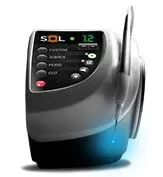 We now offer the SOL® Portable Diode Laser for treatment such as laser troughing, gingivectomies, perio (LAPT), implant recovery, frenectomy, operculectomy, hyperplasia, incision and drain, and pulpotomy, to name some.
SOL® delivers true portability, power and precision, along with enhanced ergonomics, simple interface, and a high-contrast aiming beam designed to make laser dentistry easier than ever. It also happens to be incredibly affordable.
Great curves. Outstanding performance. Unbeatable value. SOL is the most attractive desktop laser in dentistry today... and it's from DenMat.
SOL is the ideal device for both entry-level and experienced laser users, delivering all the power and essential features you demand in a laser, but a fraction of the price. SOL combines true portability and superior precision at a value that no other laser can match. Whether you're upgrading your arsenal, arming your Hygiene team, or simply seeking your first diode, look no further than SOL.